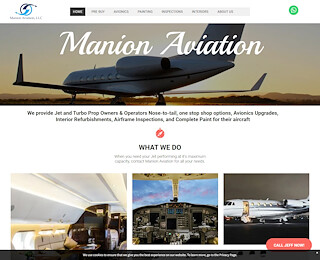 The decision to undertake aircraft paint and interior refurbishment is significant, not just for the aesthetics but also for the overall functionality and lifespan of your prized possession.
Here at our facility, when you entrust us with your aircraft, we promise an experience that blends craftsmanship, cutting-edge technology, and the highest standards of customer service.
Here's what to expect:
Comprehensive Consultation
Our journey together starts with a detailed consultation.
We understand that each aircraft, like its owner, has unique needs.
Whether you're looking for a complete aircraft paint and interior refurbishment or a specific customization, our team is here to understand your vision and translate it into reality.
During this phase, we'll discuss everything from the color schemes for custom aircraft paint to the type of materials and finishes you prefer for the interiors.
Meticulous Preparation
Before diving into the refurbishment, our experts ensure that your aircraft is adequately prepped.
This includes a thorough inspection to identify any existing damages or areas that need special attention.
Every nook and cranny is examined, ensuring that the custom aircraft paint and refurbishment tasks proceed without a hitch.
Superior Craftsmanship
Our team is passionate about what they do, and it shows in the quality of their work.
Our commitment to excellence ensures that your aircraft receives the finest custom aircraft paint job, making it stand out on the tarmac.
The interior refurbishment process is equally detailed, with a focus on enhancing comfort, functionality, and aesthetics.
From reupholstering seats with premium materials to updating in-cabin amenities, we transform your aircraft's interior into a luxurious haven.
Cutting-Edge Aircraft Cockpit Upgrades
In today's digital age, having a state-of-the-art cockpit is not just a luxury but a necessity.
Our services extend beyond aesthetic enhancements.
We provide advanced aircraft cockpit upgrades, integrating the latest avionics and technologies.
Whether it's navigation systems, communication devices, or entertainment options, we ensure your cockpit is equipped with the best, enhancing safety and providing a superior flying experience.
Final Inspection and Delivery
Before handing over the keys, our team conducts a rigorous final inspection to ensure every detail aligns with your vision and our standards.
We pride ourselves on transparency, keeping you in the loop throughout the process, and addressing any queries or concerns you might have.
Sustainable Practices in Refurbishment
In an era where sustainability is paramount, we have ensured that our aircraft paint and interior refurbishment processes are as eco-friendly as possible.
We utilize paints and materials that are not only durable and long-lasting but also have a minimal environmental impact.
Our goal is to enhance your aircraft's aesthetics and functionality while being conscious of our ecological footprint.
Every step, from sourcing materials to the actual refurbishment process, is carried out with environmental sustainability in mind.
We continually research and integrate newer, greener methods, ensuring that your aircraft not only looks splendid but also respects the environment.
Tailored Packages to Suit Every Budget
Understanding that each client's needs and budget can vary, we have devised a range of packages to cater to different requirements.
Whether you're looking for a basic aircraft paint job or a comprehensive aircraft paint and interior refurbishment, we have a solution tailored for you.
Our team is committed to providing value at every price point.
Every package, regardless of its range, guarantees top-notch craftsmanship, high-quality materials, and our signature customer service. By working closely with you, we aim to deliver results that resonate with your vision and fit within your budget.
Continuous Post-Service Support
Our relationship doesn't end once the refurbishment is complete. We pride ourselves on providing continuous post-service support to our esteemed clients.
Whether it's maintenance tips, minor touch-ups, or queries related to the custom aircraft paint and materials used, our team is always a call away.
We believe that an essential aspect of our service is ensuring that the revamped look and feel of your aircraft are maintained for years to come.
With our comprehensive support and your aircraft's enhanced aesthetics and functionality, you can fly with heightened confidence and pride.
Client-Centric Approach Throughout
At the heart of our operations is a genuine desire to see our clients satisfied.
From the initial consultation to the final delivery, our processes are designed to place you at the forefront.
We take the time to understand your desires, preferences, and concerns, ensuring the final outcome resonates with what you envisioned.
Being client-centric also means tra nsparent communication throughout the aircraft paint and interior refurbishment process.
We provide regular updates, seek feedback, and are always open to revisions, ensuring the journey is collaborative and the end result is exactly as you desired.
In conclusion, our promise to you goes beyond just aircraft paint and interior refurbishment.
We aim to redefine luxury, comfort, and functionality for your aircraft.
From custom aircraft paint jobs that reflect your style to advanced aircraft cockpit upgrades, we are your partners in ensuring your aircraft is nothing short of a masterpiece.