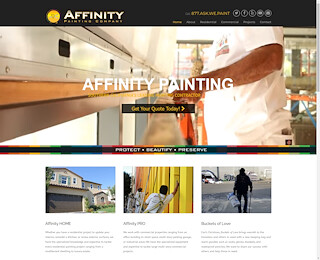 Our dedicated team at Affinity Painting knows better than most that when you want your business or your home to be painted, you should leave your project in the hands of the most qualified painting contractor in Covina that you can find. Painting a building or space within a structure or home can be expensive, so you need to make sure you're getting a good value.
When looking for a painting contractor, there are a few important things to look for. Here are just a few of the essential characteristics of a highly qualified and experienced painting company.
Has Been in Business a Long Time
Look for a company that has several years of experience. While a new company just starting out might be perfectly adequate for the work you need, a company that has several years of experience is more likely to have performed on projects similar to yours.
Has Well Rounded Experience
Also, try to find a painting contractor in Covina that has worked on a variety of projects. Whether you need residential painting or commercial painting done, you can get a better idea of the company's capabilities if they have a broad range of different types of projects they've completed.
Does More Than Just Paint
Perhaps you want different wall coverings, such as wallpaper, murals, laminates, or acoustical wallpaper. When looking for a prospective painting contractor, be sure to find a company that provides the specific service you need. Always ask for references to the work so you can be sure that the job will be completed well.
Provides a Written Estimate
Plan to get at least three quotes from painting contractors you think could do a good job. Finding a contractor to paint your home or your business is something that you should take your time doing to make sure you get the best one. So, take the time to shop around and get bids.
When reviewing estimates, do not base your hiring decision based solely on price. Instead, look at the overall value that each painting contractor in Covina offers to make sure you get the best value and not just the least expensive job.
Makes Your Dreams Come True
If you're like most home or business owners, you probably have an idea of what you want your space to look like, or at least how you want to feel when you're there. On the other hand, if you are in fact like most home or business owners, you might not know precisely how to achieve what you want.
Talk to a professional painting contractor who can help you identify what you're looking for and the best way to achieve that. Your project might need a specialized painting technique or another type of surface covering altogether. Look for a contractor that can put your vision to life.
Giving your home or business a new fresh coat of paint can make all the difference in the world. Painting is something that doesn't have to cost a lot but can make a massive impact on the way your building and space looks and feels. Make sure you hire the best painting contractor Covina has to offer.
If you need a painting contractor in Covina who has all of these critical characteristics and more, give Affinity Painting a call.