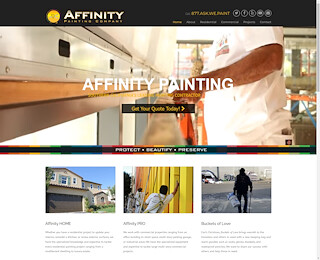 If you need a trusted and established painting contractor in Glendale, then there are no substitutions for Affinity Painting Company. We are Southern California's most trusted painting contractor. Our reputation speaks for itself, and you may feel free to see our reviews and testimonials online. Also, be sure to check out our portfolio to view the jobs we've done for clients just like you. Let us take the hassle out of your next painting job and see why so many people are choosing us to handle their residential and commercial painting projects.
We Operate with Speed
By letting Affinity Painting Company take care of your painting project for you, we can speed up your projected project timeline and ensure that all tasks are completed promptly and adequately. We get in, get the work done, and get out so you can quickly get on with your life and your business. For a free quote, be sure to give us a call or send us an email.
Quality
Because of our experience levels, our painters not only work fast, but they also do excellent work. We pay attention to the smallest details and make all of the necessary preparations to do each job correctly and to protect your belongings. With Affinity Painting Company, you don't have to worry about drips, spills, spots, or any other inconsistencies or shoddy work.
Affordability
As well-established professional painters, we gain most of our business through word of mouth. Although we could charge more for our services, as many of our competitors do, we have found that we get more business by doing great work at low prices. Word of mouth from happy clients generates most of our leads. If we can't beat our competitors' prices, we will match it.
Commercial Painting
Commercial painting projects have their own nuances that are best understood and managed by a professional painting contractor. Don't make the mistake of hiring "Joe the Handyman" to do your commercial painting for you. Commercial painting is no ordinary job due to its setting and scale of operations. Moreover, the ways of working in commercial premises are entirely different than working in a residential environment.
Maintaining Industry Standards
Painting of commercial establishments must be done following industry standards. Affinity Painting Company has access to all of the required technology, expertise, tools, materials, and safety protocols that are needed for you to maintain those industry standards for our commercial clients. Let us enhance the aesthetic value of your premise.
Contact Affinity Painting for a Free Quote
Affinity Painting Company is the best painting contractor in Glendale. We provide our clients with the best mix of quality, affordability, and job completion speed, whether you need residential or commercial painting. To learn more about our services or about anything related to painting, be sure to contact us via email or telephone. Schedule a home or establishment visit to get a free quote for your painting project. Remember, Affinity Painting works quickly, professionally, and does excellent work!